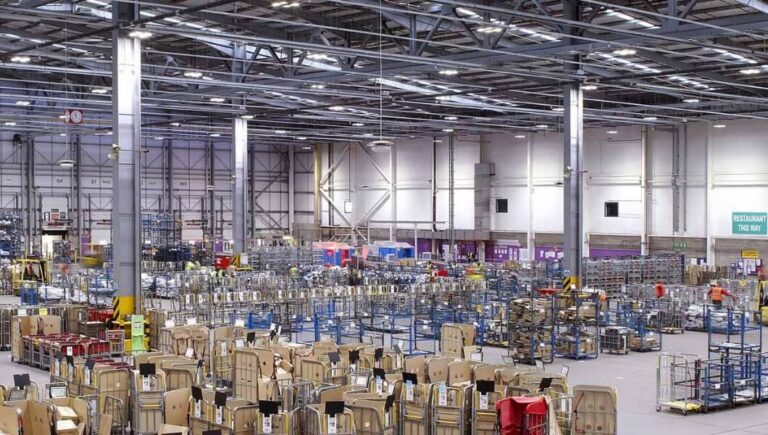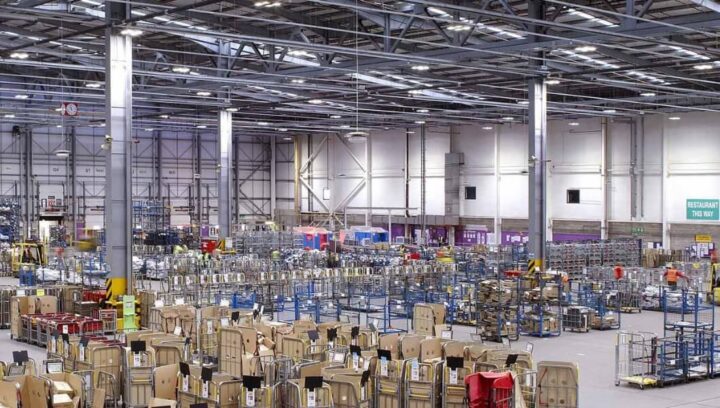 Warehouse lighting ranges from a storeroom at an elementary school to a distribution center with hundreds of thousands of square feet. Lighting warehouses must consider traffic in storage areas and whether occupancy sensors can limit the time lights remain on after the stock person leaves.  Advances in LED sources now gives us efficient lighting alternatives to fluorescent and metal halide lighting.
Warehouse Lighting Projects
Warehouse lighting projects take into consideration the building, type of storage (whether rack or floor storage) and type of product being stored. The reasoning is large, bulky items require less light to make a selection decision than small items such as jewelry. Small items require more light and generally have the light source at relatively low levels. Bulk storage areas can have fixtures 30 feet above the floor.
Metal halide and fluorescent fixtures used to be the only light sources for warehouse lighting but today LED lighting is often the best lighting choice. Led fixtures range from 12,000 lumens to 72,000 lumens!
Service Lamp has a large selection of retrofit LED lamps for your T5, T8 or even your metal halide fixtures.  If you prefer to change out all of your present fixtures to new LED fixtures we have a large variety of warehouse fixtures including:
HighBays
LowBays
Industrial Strips
Vaportite
They are a variety of choices when it comes to occupancy sensors, let us assist you in selecting the correct version for your business.
For additional information call Service Lamp at 856-768-0404.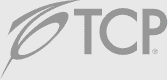 Universal Lighting Technology